This post is part of the A to Z Challenge. Each post this month will be associated with a letter of the alphabet with the theme 'Food Memories'.
**********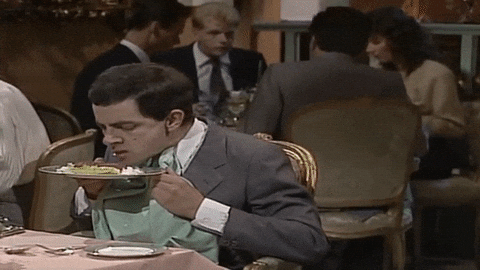 When I was younger, I watched an episode of Mr. Bean having a meal in a fancy restaurant. He ordered steak tartare. When it arrived, he looked surprised because it was raw, he thought he'd ordered an actual cooked steak. He tried a mouthful of it and immediately regretted his order. He then tried to hide pieces of the steak tartare in various places, including inside a tiny flower pot on his table! It was one of the funniest Mr. Bean episodes I'd ever watched. Since then, I've been dying to try steak tartare.
Steak tartare is a dish of finely chopped beef, served raw and mixed with any number of accompaniments but most commonly egg yolk, Worchestershire sauce, Dijon mustard, hot sauce, fresh herbs, and other seasonings.
I've tried steak tartare precisely twice in my life, and both times, I was fortunate to try this dish in Paris.
The first time I tried it, also coincided with my first trip to that city with my father, brother and sister. I was in my young teens. We went for lunch at the restaurant in the hotel we were staying at he and encouraged us to try typically French dishes. I saw steak tartare on the menu, and knew that was what I wanted to get. My dad ordered it too. When the waiter brought our meals, I couldn't wait to dig in. It looked more appetising than the one Mr. Bean had. It was a perfect circular construct of raw, shiny meaty goodness. I had my first bite and was pleasantly surprised that I couldn't taste any "raw-ness", instead I tasted the mustard and the herbs. Several spoonfuls later though, I was full, and I'd barely eaten half of the "steak". Who knew raw meat could fill you up so quick! But I persisted, however my persistence turned into struggles. I glanced at my dad and he too was trying hard to finish his steak tartare. We should've just shared the one. Towards the end of the meal, I too wanted to stuff pieces of my steak tartare inside the vase on the table.
The second and most recent time I tried steak tartare, was in 2016, the same trip I tried escargot. My mum and I stumbled into a traditional-looking French restaurant, Le Saint-Amour, around the corner from the Printemps Department Store on Boulevard Hausmann. We hung up our coats, got seated and offered menus. Under Plats et grillades I saw it –
steak tartare haché minute. It'd been a long while since my last steak tartare. I was certain that having this dish now as an adult would mean I'd enjoy it more. I'd concluded that my teen taste buds weren't sophisticated enough to appreciate this delicacy then. My steak tartare arrived in a timely fashion and I attacked it with gusto. I tasted onions, mustard, herbs, the raw beef itself, so sweet and tender and before I knew it, my plate was clean. My second time around with this dish – a success!
If you haven't watched the episode with Mr. Bean and his attempt at eating steak tartare, you can find it here. Enjoy!
Ever had a dish that you didn't like the first time, but when you gave it another chance, it turned out to be absolutely delicious???